Your productivity depends on machinery that works as expected, when you need it. There's no room for breakdowns or downtime.
We are Experts in Large Motor Repair
Everyone at West Fraser has a thorough understanding of electromechanical functionality, processes, and critical components. We know how to keep your systems running.
---

We're Here When You Need Us.
You work on a 24-hour clock, and so do we. In-shop or in the field, our experts are ready to mobilize at any time to help your company avoid catastrophic production loss. WFEM has a well-earned reputation for short lead times and top-quality service, always.
---
Where Cutting-Edge Innovation Meets Proven Techniques.
West Fraser Electro/Mechanical boasts an EASA-Q certified, state-of-the-art facility. That means that we consistently match or exceed the scope of work advertised, adhere to strict safety and environmental practices, that all of our work and testing is documented and traceable and complies with international standards, and that our customers are always highly satisfied.
Our 28,000 square foot service centre is modern, clean, and digitalized. The shop is equipped with temperature-controlled ovens, core loss testing, and VPI chambers. We use the latest testing and vibration analysis equipment to perform full voltage test runs and deliver in depth reports. With a lifting capacity of 24 tons, WFEM is ISO certified to rewind, overhaul, and manufacture motors up to 20,000 HP.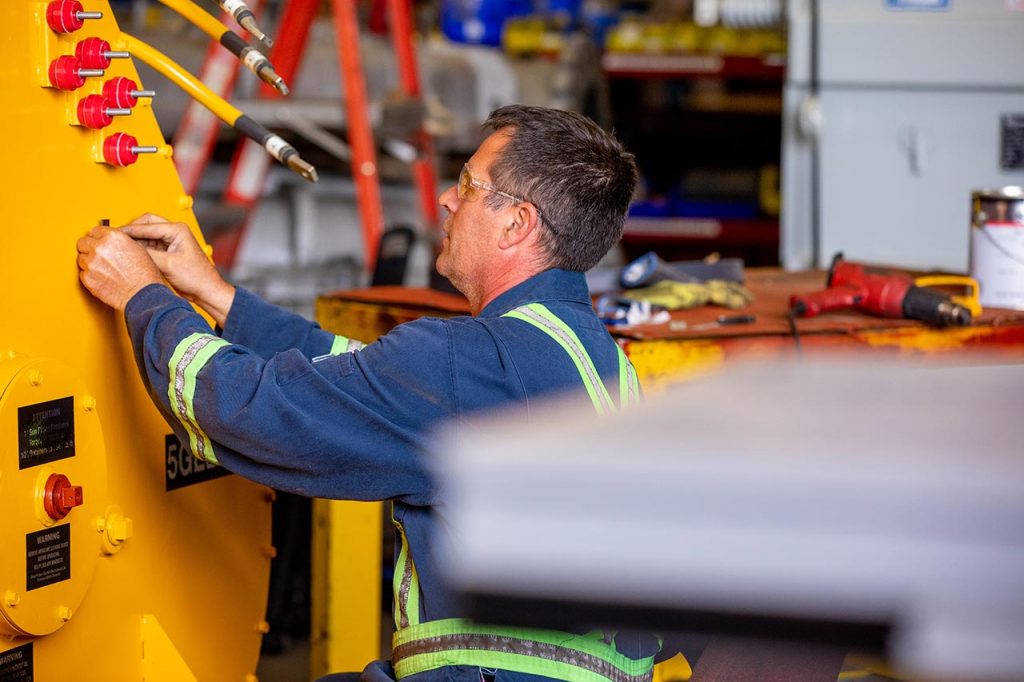 Additionally, the shop is outfitted with advanced diagnostic tools, including surge and high-potential testing instruments, commutator profilers, and highly-sensitive dynamic balancing equipment. In our computerized test bay, we can monitor and analyze motors at full voltage on a calibrated cast iron test bed, using a precision dynamometer. Our technicians perform full vibrational analysis, brush settings (where applicable), torque verifications, armature component checks, and rotational speed under load conditions. We collect highly accurate, real-time data that informs every repair and maintenance decision we make. Your results and recommended procedures are meticulously documented and reported. You can be confident that your electric motor repair, rebuild, or modification conforms to all industry and application specifications.
Avoid Potential Failures.
To improve your plant efficiency and increase your uptime, we offer comprehensive preventative and predictive auditing.
Our full range of testing and maintenance services, including blast cleaning, oil analysis, thermal imaging, and digital or remote diagnostics means that we can monitor electrical conditions and provide repairs and support without interrupting your continuous production.
At West Fraser Electro/Mechanical we recognize the investment you've made in your operational technology. Our goal is to ensure that your industrial motors work at top capacity for as long as possible. We keep your critical equipment running like a well-oiled machine. Literally .