West Fraser Electro/Mechanical Ltd. is a multi-faceted provider of services for and distribution of the critical equipment that supports continuous production industries.
We work from a 28,000 square foot facility in Prince George, British Columbia, and offer in-shop and field repairs, maintenance, and technical services, as well as direct sales and replacements of industrial electric motors, generators, and components.
Where You Need Us. When You Need Us.
We believe in building effective, long-term solutions for every customer.
To support that, we rely on our team's collective, extensive expertise in all aspects of our industry: engineering, mechanics, repair and maintenance, fabrication, logistics, and sales, to provide a comprehensive service experience. West Fraser Electro/Mechanical builds strong relationships with our clients by consistently working with integrity and proven skill.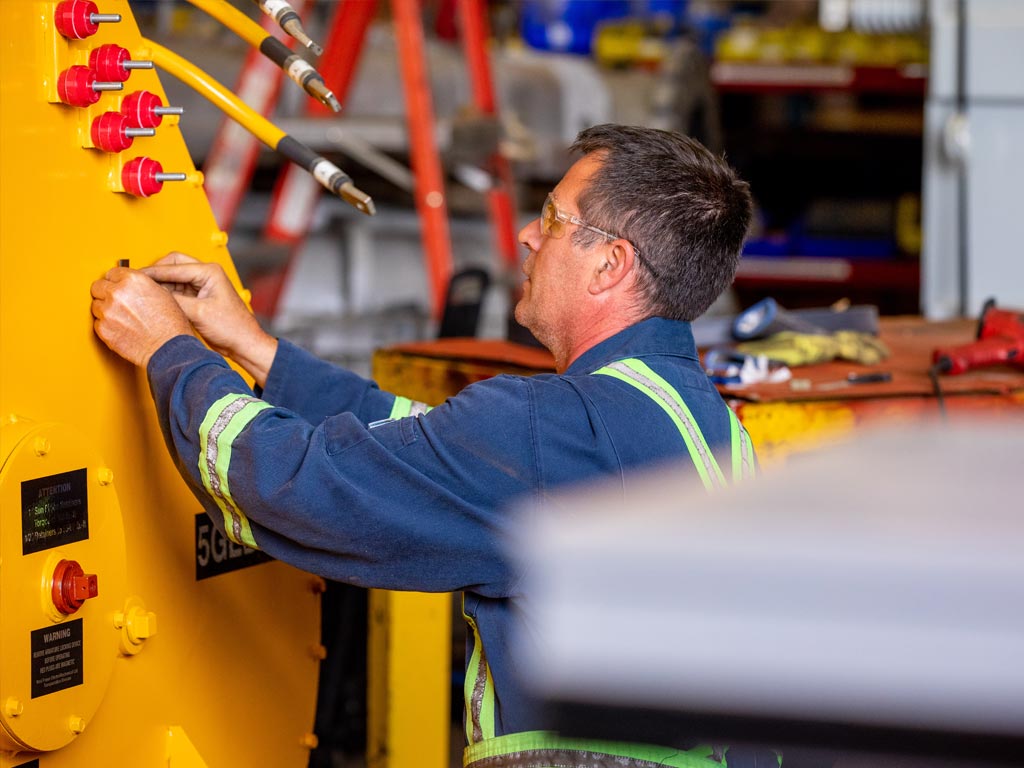 Our people love what they do.
A passion for the work, unparalleled hands-on experience, and impressive academic achievement drive WFEM employees to consistently give our best to every project. Our highly-trained staff receives ongoing professional development, ensuring that we stay at the forefront of the electrical motor industry. Every employee is expected to adhere to strict quality-control practices and third-party audit recommendations. We comply with all government and industry standards and safety regulations.
We Exceed Expectations.
Providing the best customer service is our goal. In our shop or onsite at a client facility, we always bring our exceptional attention to detail, thorough industry knowledge, and innovative procedures to the table. We aim to solve our customers' issues in the most efficient and effective manner.
At West Fraser, we strive to provide our clients with customized and aftermarket products of the highest quality. By partnering with trusted manufacturers of industrial electric motors and their component parts, we are able to bring a broad range of mechanical power transmission equipment and post-sales support to our customers.
Corporate Policy
West Fraser Electro/Mechanical Ltd. offers the highest quality products and services, and remains committed to providing our customers with a continued and valuable return on investment.
Mission Statement
Leading the electric motor industry by providing solutions for our customers.
Quality Policy
West Fraser Electro/Mechanical Ltd. provides products and services which meet or exceed the customers' specified requirements, the Company's engineering standards, and, when required, the regulatory authorities.
To achieve the quality policy, it is the objective of West Fraser Electro/Mechanical Ltd. to establish and maintain an effective and efficient quality process, determine and monitor internal and external issues relevant to its quality policy, planned and developed in conjunction with other management functions and in conformance with the corporate objectives.
History
In 1986, an ambitious and talented Prince George engineer, Garry Toop, established West Fraser Electro/Mechanical Ltd. (WFEM) with a goal of providing top-quality technical services to organizations that rely on large rotational motors to keep their operations running. He earned a well-deserved reputation for reliability and quality work. West Fraser was the first EASA and ISO certified motor rebuild facility in the province of British Columbia. In 2001, a group of WFEM employees bought the company and expanded the service offerings and client range.
---
West Fraser is now a leading provider of large motor sales and services throughout British Columbia and beyond.
---
Now, the company boasts more than 30 highly-skilled employees, clients from all major resource and production industries, a distribution partnership with global motor-manufacturing powerhouse, GE, and a commitment to continued excellence in training and customer service. West Fraser is poised to become North America's company of choice in the electro-mechanical services industry.
Certifications
Quality and Safety Assurance
West Fraser Electro/Mechanical Ltd. utilizes a Total Quality Management (TQM) plan across all of our operations. With balanced goals of continuous improvement and customer satisfaction, we actively involve our team members in the development of our operating procedures, service capabilities, risk-mitigation practices, and company culture. The management regularly reviews company policies to reflect employee input and to incorporate the most up-to-date industry recommendations. Our holistic approach ensures a consistently high quality in our work and in our products.
WFEM meets or exceeds industry standards for quality and safety, and we are routinely audited by third-party agents. We are registered with the following mandatory and voluntary regulating bodies to ensure continued compliance with workplace, safety, energy, environmental, and reporting guidelines.
WorkSafeBC
Electrical Apparatus Service Association (EASA) – Active member
EASA Accredited
ISO 9001
IS Networld
CSA Hazardous Duty Motor certification for explosion-proof machines to 6700 HP
Canadian Federation of Independent Businesses (CFIB) – Member in Good Standing
Demand Side Energy EASA-Q documented auditing
Green Motors Practices Group – Active member
Supply chain and ELD compliance systems